EXTERMINATOR SOUND & LIGHTING
Links to other websites
Make sure you check out our YouTube and Facebook pages
This is the Exterminator Sound and Lighting YouTube page. There are around 100 videos of shows I have done in all types of events and venue locations. The best light shows are in places where I can hang lighting from the ceiling or beams above the dance floor giving your party that dance club look and feel.

There are a lot of pictures and video on my Exterminator Sound and Lighting Facebook page where you can see the various setup options that are available. We can customize a show to meet your specific needs.
Pro Sound and Stage Lighting is a good place to order sound and lighting equipment. They are located in Los Angeles and have free shipping on most orders. They can match or beat anyone's price.
I purchase some of my equipment locally at the Guitar Center in Hoover, AL. They can match any price I can find on the web and I have the convenience of being able to see what I am interested in before I buy it.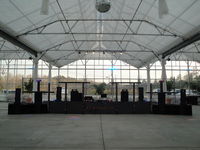 This is The Atrium in Cullman, AL where we did the Fairview High School Prom on April 6, 2013. This is an awesome venue to have an event and I highly recomment it.